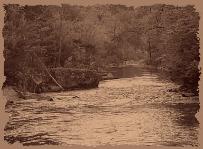 There was no city park in New Haven and for sure, there were no country clubs. Nobody was rich enough to own a pool in his backyard. But hey, who needed it as long as the Rolling Fork ran just west of town?

We could walk less than ½ mile and across a corn field and we were there. The corn stalks along the bank of the river were a ready made dressing room. Nobody skinny dipped in those days; you changed into swim trunks before hitting the river. With black inner tubes from tires, a rope hanging from a high limb for swinging out over the river, and we had our own water theme park.
Hugh Louis somehow located a couple of old auto hoods from mid-40's Ford sedans. Turned
upside down, these were amazingly like the bow of a small ship. Indeed, he finagled with
somebody to get the two of them cut square on the ends and then welded together back to back so that he had a steel boat capable of shipping two people. He used this mainly to check his trout lines set in the river. But it also became a means of recreational boating. The thing sank several times in the river but we could raise it with little trouble, dip the water out, and presto, we're back in business.
We carried on our tradition of making war among ourselves wrestling off inner tubes and throwing mud balls at each other using the soft riverbank mud. Nobody drowned in my memory and I don't recall any real injuries, even though there were no lifeguards around. The Rolling Fork was the source of city water for New Haven, after a bit of filtration and purification, of course. That's another yarn.
One summer, several of us camped a few miles up the river from New Haven. We had a few rifles, a couple tents and made a fire on the river bank. Several of the boys brought cans of beer and put them in the shallows to keep cool. I didn't drink beer. When I awakened one morning earlier than the others, the rising sun glinted off the beer cans in the shoals. I reached for one of the .22 rifles and decided I needed a little target practice. By the time the beer drinkers awakened and realized what all the shooting was about, there was a lot of foam but few cans left.
Somehow, I survived the wrath of my friends but I was never invited to go camping with them again.