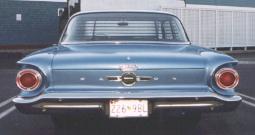 One day while driving to school in heavy traffic along Eastern Parkway, I shifted from the middle lane over to the right and suddenly found myself upon a Ford Falcon parked in the driving lane. Unable to brake soon enough, I rear ended the Falcon, totally destroying my car, and the rear end of theirs. The passengers of the other car had been standing outside on the sidewalk. Apparently the car had stalled and they were waiting for help to arrive so fortunately no one was hurt.
It was my first car, my first accident, and I was completely out of sorts. I managed with Hugh Louis' help to get the car towed home where it sat for several weeks before I realized I wasn't going to be able to fix it and I sold it for junk. Since I had no liability insurance my license was suspended for a year. Trying to save money every possible way was pushed a little too far by me and as a result, I lost my car and my driving privilege too.
The worst part was the worry. You see, I just knew the people in the other car were going to sue
me. I was too naive to realize that their own insurance company would take care of their expenses and that not having anything, there was no point in anyone suing me anyway. So I worried and worried. Every phone call was going to be a lawyer telling me I was being sued. Even the schoolmate who was carpooling with me that day was hounding me to pay for his glasses that were broken in the accident.
My dad evidently had no idea how badly depressed and anxious I was or he surely would have
told me to quit worrying; just a few comments could have relieved my deep concern. So it was
months before my anxiety subsided and I could hear the phone ring without jumping out of my
shoes.
Having no car meant that I was back to the city busses for transportation to and from school. This was terribly inconvenient, what with the transfers, hauling books, bad weather and the irregular schedules, etc.
Finally, after the year elapsed, I was able to get my license renewed and dip into my sacred
college funds to buy another car. It was a 1955 Chevrolet and how sweet it was to be back on
wheels again.