She claims that I constantly berated her in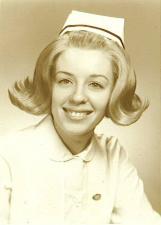 her youth, telling her frequently that she was "obnoxious." But, I have no recollection of that at all. In fact, the memories of my young sister are all very fond.
Rosemary had a quite normal youth. Being very attractive, she dated a lot. One young man in her life who also happened to live across the street from us was studying to become a mortician. That provoked a lot of joking among her brothers when he came over as you might imagine. "How's business, Bill? A little dead, I guess, huh?" And so on.
When she finished nursing school, she made a trip to Hawaii and liked it so much she decided to move there. But after a year, she returned when finding the cost of living was too high. She might have been a bit lonesome too.Her job in a dialysis clinic was the circumstance for meeting Martin Roach, a leading young attorney in Louisville. Older than her by a few years and divorced, we all held our breath about Martin. But he was quite a superb guy and she decided to marry him despite his very serious kidney condition. By that time, Daddy was gone and Rosemary asked me to escort her down the aisle for her wedding, which, of course, I did gladly.They had a great few years together including a memorable trip to Europe before Martin died. They also adopted Emily, a little girl who has turned out to be an exceptional young lady. And later Lauren, Martin's daughter by his first marriage came to live with her and Emily, giving Rosemary a big responsibility of raising two young ladies while running a full time job.
Rosemary provided a lot of love, wisdom and insight in family matters, especially with Mama after Daddy died. She declared shortly after Mama's death, that she had no plans to become the family matriarch for all us guys. That was accepted, of course, but her importance in the family has been undiminished nevertheless. The home she and Martin had in St. Matthews near Louisville turned out to be a place of reconnoiter for Mahala's family on frequent trips from Bangkok and all the brothers and offspring on their visits to Louisville.
Though anything but a matriarch, she certainly has been the focal point of family matters, both fun and serious for many years now and is cherished by all, not the least by a once obnoxious older brother.