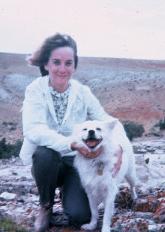 One of twins, she was born in West Virginia to a large family but her parents moved them to Florida when she was still in grade school. So Judy Steorts finished school while living at a fishing camp in the central part of the state where she was saved through the youth ministry at a local Methodist church there.

Her parents gave her not the least encouragement in spiritual matters but after spending a year at University of Florida, she followed the advice of her pastor and moved to Kentucky where she enrolled at Asbury, a Christian college.
I met her while she was taking a "sabbatical" from college and was working in downtown Louisville where she also lived in the Christian Women's club. She was assisting in the ministry to soldiers that was being run by the chaplain of a Methodist retirement home and his wife. I had been introduced to that ministry myself when the chaplain found my lost scripture memory pack at the tennis courts at Cherokee Park.
We both became charter members of a home bible study in the home of Jack and Helen Gibson. Judy attended the Christian and Missionary Alliance Church as did the Gibsons and others in the bible study, including myself. Judy wanted to finish her education so she returned to school and in 1968 she was graduated from Asbury College. That summer following, she spent in Colorado as a counsellor at a youth camp. When she returned to a full time job in Louisville, she lived for a while with the Gibsons before taking a small apartment near by.
In early February 1969, Judy experienced a great boost in her spiritual life after a long struggle. Soon after that she and I began a courtship a good bit more serious than the friendship we had enjoyed before. In the summer we became engaged and were married in October. Certainly, it was one of the turning points of my life.